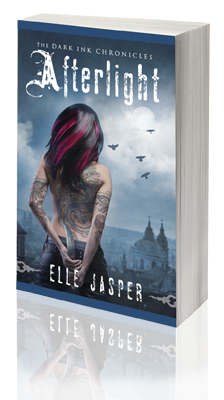 As Savannah's most unconventional tattoo artist, Riley Poe is quite familiar with the local underground scene. She lives and works on the edge of it every day. Now She's about to step over the edge.

When her younger brother is taken by a sinister cult led by centuries old vampires, Riley discovers a world of shadows and blood- and those who exist there.

Her ally is the hot-tempered vampire Eli Dupre, who is attracted to Riley's beauty as well as her one-of-a-kind blood type- a blood type is is not alone in craving.

To save her brother from certain undeath, Riley will face dangers she's never dreamed of, ruthless bloodthirsty enemies, and an evil of endless hunger that wants to devour all in its vile grasp.
Just finished this book and thought I would write a review! This book was good, don't get me wrong it really was, but there were times where I was like "Really?" and I would just roll my eyes... This has a lot of sex and I wouldn't recommend it to anyone below the age of 18 because when I say there is a lot of sex, I really mean there is a lot of sex...!

Plot - ☆ ☆ ☆ ☆ The plot was good and I really liked how it was something that has been done before, but it had a twist to it. Why didn't I give it five stars you may ask...? Well to me it was missing something that it dearly, dearly needed.
Writing - ☆ ☆ ☆ I would have given the writing two stars, but I thought that was a little mean so I gave it three instead. The writing was good...at times. But other times I was just like "Really? Your kidding me right?" and I would roll my eyes and just shake my head.
Characters - ☆ ☆ ☆ I enjoyed the characters, I thought that they were well thought, well at least some of them were...

Riley Poe - Riley is a tattoo artist from Savannah, Georgia and she has a very special blood type that will drive all vampires crazy and most likely get her killed if she's not to careful of what she does, or says. To make sure none of that happens she drinks a special Gullah brew that masks the scent of her blood from vampires. What can be said about Riley Poe... Well for one she was a cool character, she was hard head, stubborn and totally not into taking orders from anyone. But a lot of the time I thought she came across flat. I don't know why, just that she did.

Seth Poe - Seth Poe is Riley's younger brother and he and the rest of his friend stumble across a crypt where Victorian and Valerian lay locked away... After beginning taken, they are slowly turning into the undead and Seth forgets who he is, and worst yet who Riley is...

Eli Dupre - Eli Dupre is the eldest of four siblings and the strongest. He is sent to watch over and protect Riley after her bother is taken by Victorian and his brother Valerian. As you can expect feelings grow between Eli and Riley, I mean if you weren't expecting that then your totally clueless... I liked Eli, he was strong and had a wicked temper and really hated it when Riley didn't listen to him and do what he said.

Preacher Man - His is Riley's surrogate grandfather, who she owns her whole life to. He helped her get clean and in the right direction, when she was all into drugs and other baddies like that...

Estelle - Estelle is the Preacher Man's wife and a Gullah herbiest of sorts. She is the one that makes Riley special tea to mask her blood.

Gilles Dupre - You don't really see him that much in the book. You see his kids more often, then him and his wife, Elise. I liked him though. He gave warning to Riley of the consequences of her and Eli's growing relationship. Telling her that nothing good would come of it. She would die, as all humans do, and Eli would go on living.

Elise Dupre - Just like her husband she wasn't in the book that much. You really don't learn that much about her.

Phin Dupre - Phin is young, in vampire standers, and has a wicked sense of humor. He does his best to help his bother, Eli, and protect Riley even though she doesn't take orders that well.

Luc Dupre - Just like his brothers his young, again in vampire standers, and he along with his siblings tries and keeps Riley in line so she doesn't end up getting herself killed.

Josie Dupre - Josie is the youngest of the Dupre siblings and she has a quirky attitude and loves tattoos and she gives Riley some of her own designs. She might be young and small, but she can kick ass with the best of them.

Victorian - Is an centuries old vampire who has his eye on Riley...

Valerian - The oldest of the vampire brothers, not much is known about him.

Overall I give this book ☆ ☆ ☆ - nothing more and nothing less.