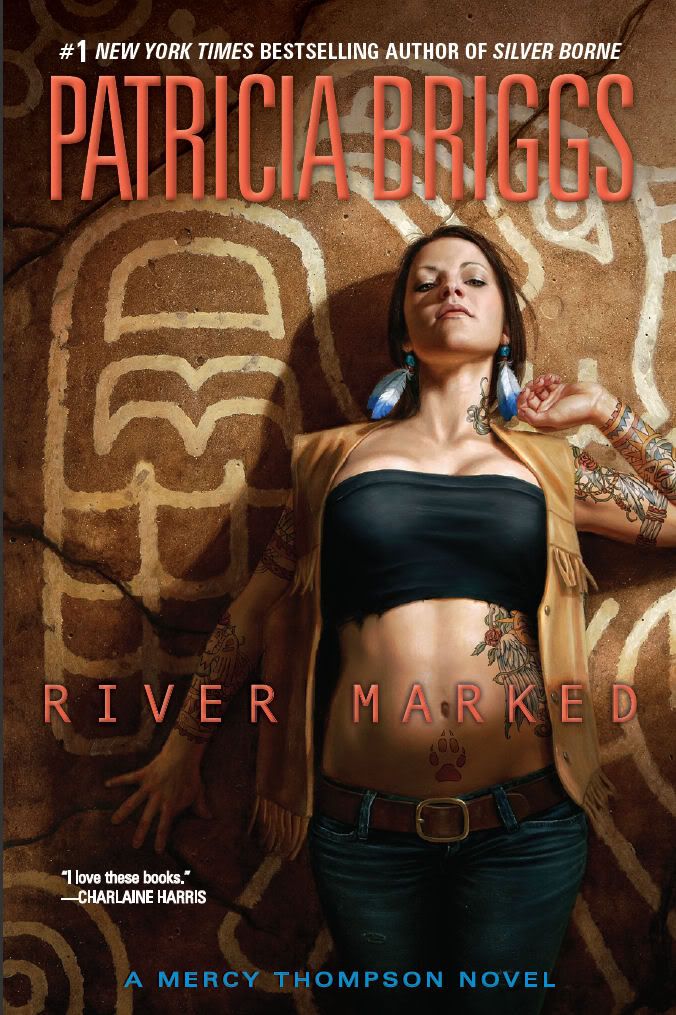 Coyote shifter Mercy Thompson knows that with her mate, the Alpha werewolf Adam, will never be boring, but even their wedding doesn't go as planned. Nevertheless, a ten-day honeymoon camping on the banks of the Columbia River, alone, just the two of them, should make up for it. But the trip- and the pimped-out trailer they're using- is courtesy of the fae. And nothing from the fae comes without strings attached...

Being a different breed of shapeshifter- a walker- Mercy can see ghosts, but the spirit of her long gone father has never visited her. Until now. An evil is stirring in the depths of the Columbia River- and innocent people are dying. As other walkers make their presence know to Mercy, she must reconnect with her heritage to exorcise the world of the legend known as the river devil.
Just finished River Marked and thought I would write a review! But before I do any of that I'd just like to say I really enjoyed this book, but not as as much as the others... I was sad you really don't see Darryl, Jesse, Ben, Stephan, or whoever else in the book all that much!

Plot - ☆ ☆ ☆ ☆ I really loved the plot it was really original and interesting to read! Now there was some stuff I wasn't so thrilled about, but every good book has it's pros and cons. I give the plot four stars!
Writing - ☆ ☆ ☆ The writing wasn't really all that different from the other books, so there really isn't anything to report. I give it, as usual, three stars!
Characters - ☆ ☆ ☆ I really enjoyed the characters, but I was totally bummed that you don't get to see Darryl, Jesse, Ben, Stephan, Warren and/or Kyle all that much in this book... I give the characters three stars!

Mercy Thompson Hauptman - Mercy Thompson is your average woman, only she's a walker and she can shift into a coyote. She known to getting herself into serious trouble, but she say that trouble follows her around.

(view spoiler)


Adam Hauptman - Adam is the Alpha of the Columbia Basin Pack. Adam is as hard head as Mercy and they make a perfect couple!

(view spoiler)


Coyote "Joe Old Coyote" - Coyote is, well The Coyote.

(view spoiler)


Gordon Seeker - Is grandfather to Calvin, and a shifter as well,

(view spoiler)


Benny - Mercy and Adam found Benny in a boat,

(view spoiler)


Jim Alvin - Is of the Yakama Nation and a medicine man. He is the alpha, but isn't a werewolf. Jim is the leader and well respect man...

Calvin - An apprentice of sorts to Jim Alvin.

Fred - Is a shifter,

(view spoiler)


Hank - Brother to Fred and a shifter as well,

(view spoiler)


Overall I give River Marked ☆ ☆ ☆ ☆ - nothing more and nothing less!