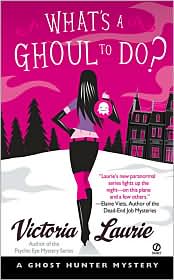 M.J. Holliday has two rules. One, she and her partner, Gilley Gillespie, work alone; and two, she doesn't date clients. But when handsome Dr. Steven Sable needs her help, the specter-spotting sleuth is ready to break both of her rules.
It seems the hot doc's grandfather jumped from the roof of the family lodge in an apparent suicide. But Dr. Sable knows in his bones it was foul play, and strange things keep happening at the lodge. He'll hire M.J. and Gilley- but only if he can come along. Hey, the duo needs the money- and looking at eye candy all weekend doesn't sound to bad, either...
But once they reach the lodge, the three realize they're dealing with more ghosts then just Grandpa Sable's. And the spooks keep playing nasty tricks on their human visitors. To the untrained eye, it would appear that ghouls just want to have fun. But M.J. knows they're communicating their distress- and it's up to her to figure out why...
I picked this book up because I've read Victoria Laurie series, Psychic Eye Mystery which I totally love. I read this book and thought to myself that Victoria Laurie knows what she's doing! She writes great books that keep you interested and on the edge of your seat. I really loved reading 'What's a Ghoul to do?' and I can't wait to get the next book in the Ghost Hunter series Demons are a Ghoul's best friend!
Plot - ☆ ☆ ☆ ☆ ☆ I really enjoyed the plot. It had that certain something that kept you wanting to read more and more.
Writing - ☆ ☆ ☆ ☆ ☆ The writing was good and I really enjoyed reading Victoria Laurie's work! What I loved that I didn't have to go and look up works, or I didn't go through the book wondering when it was going to be over.
Characters - ☆ ☆ ☆ ☆ ☆ I really thought the characters were well thought out and molded. I really enjoyed M.J. ball busting seriousness and her sixth sense for the ultra-weird, Gilley's flirtatious attitude and hacking abilities, and Dr. Steven Sable's dedication to his patients and his non-stop prodding in trying to get M.J. to loosen up and to have a good time.
Mary Jane 'M.J.' Holliday - M.J. has always been able to communicate with the dead and help them cross over to the other side. Now some cross overs are easy and quick but some can be right now nasty and dangerous if she isn't careful. M.J. and her partner, who is also her long time best friend, Gilley have be hired by Dr. Steven Sable to prove the his Grandfather did not commit suicide. M.J. agrees to do the job, but their is on complication; Dr. Sable wants to come along and that is a big no-no in M.J.'s book. She doesn't want to bring him along afraid that all he would do is get in the way, but he won't have it any other way. M.J. is a ball busting, serious woman when it comes to her work. She doesn't fool around while she's around the dead fearing that they might come across friendly and nice, but can't turn ugly if they don't like what they see that M.J. is doing.
Dr. Steven Sable - Steven Sable is sure that his Grandfather, Andrew Sable, did not commit suicide. So he hires M.J. even though he is a total septic when it comes to communicating with the dead and other such paranormal nonsense. He wants proof that M.J. can do what she says she can do before hiring her and making her mad in the process. Even though M.J. warns him what he might found out about his Grandfather might not be pretty, Dr. Sable wants to know the truth, even if it might not be what he expects.
Gilley 'Gil' Gillespie - Gilley is M.J. long time gay best friend who has a thing for 'one night flings' and then his all business. But that isn't the case when Dr. Steven Sable comes with them on their ghost hunt. Gilley finds himself having a crush on Dr. Sable. When M.J. informs him that he will be going into the said 'haunted' house with her and Dr. Sable he is totally against it. He is the van guy and he has no desire to go and face any ghosts. Which is a good thing and a bad thing...
Overall I give this book ☆ ☆ ☆ ☆ ☆ - no more and no less!